Like a bad superhero movie that just keeps making more sequels...
I told myself I wasn't going to do this again. But once again its the first week of May and I'm still picking dirt out of my eyes from the weekend, having suffered through yet another round of Paris to Ancaster.
Last year I felt I had made my peace with P2A. Over the years I've learned this race the hard way, qualified for the elite wave and survived some of the toughest conditions in the history of the event. It's not that I didn't enjoy the race or the challenge, it just really wasn't on my radar this year. Most of my race goals this year are focused on my running so I planned a few spring run races for some early season benchmarks.
I was rounding into some good form when this happened a couple weeks before training camp...
Broken? Or bitten by a zombie?
Sadly I don't even have a cool story about it, I just jammed my foot and broke my toe. Fortunately after a few days it didn't cause too much discomfort on the bike, so while my running was limited at camp I put in over 30 hours of riding including 180k on the infamous Sugarloaf ride. While I was disappointed that I wouldn't be healthy in time to run Around the Bay 30k, I started thinking about what else I could do to kick off my race season.
photo: Maddy McMillan
I also jumped on the Zwift bandwagon over the winter and was instantly hooked. No, its not some magical world that instantly makes you a better cyclist (unless you are faking your numbers, as many people do). But I became moderately obsessed with the virtual races and did about a dozen from Christmas to mid-April and was hitting some of my best ever power numbers.
Knowing that I was on some decent early season form, and in need of a kick in the ass to stay motivated post-camp, I impulsively decided to register for P2A just before the deadline to get back in the elite wave.
I seem to say this every year that I do this race, but man, our spring weather SUCKED! Historically sucky in fact; last I checked we were on pace for the coldest April on record. Honestly if I didn't have this race looming over me I likely would still be glued to the trainer in the basement. Given that we still had snow on the ground within a week of the race I figured it would be a pretty soggy race course this year, and it certainly was.
At least the weather on race day was much more favorable than last year...a bit chilly but sunny and primarily a cross/tail wind.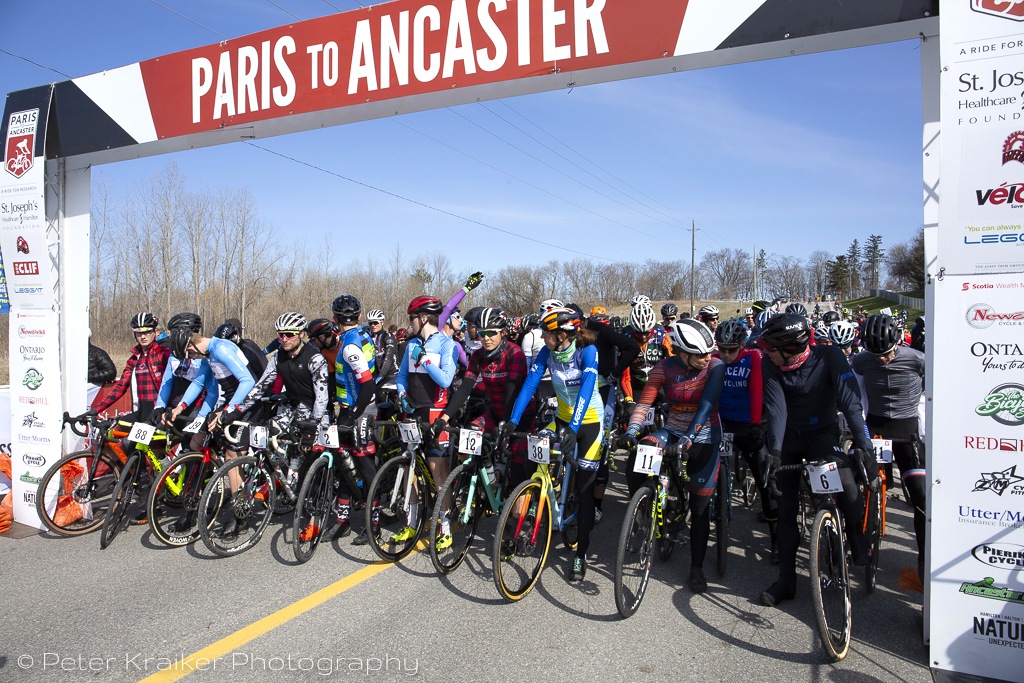 For the tech geeks out there my gear setup was the following:
Giant TCX SLR02 - aluminum frame, hydraulic disc brakes, F+R thru axles
Shimano 105 drivetrain with 46/36 x 11-32 gearing
DT Swiss wheels with 140mm Ultegra rotors
Specialized Trigger 700x38 tubeless tires with 34/36PSI
This is primarily worth noting because I felt that I nailed my gear choice. It was my first time running tubeless tires for cross and first time using file treads...actually my first ever ride on those wheels and tires...but it was hands-down the best setup I've had for this race. And my weekend warrior alloy bike and 105 drivetrain was flawless through some pretty gnarly mud this year.
OK enough with the preamble, onto the race itself...
Start is at 50 seconds
My goal this year was to beat my personal best placing of 71st in 2016, but knowing how close I was last year to getting in the group that finished 30-50th I was willing to take a risk to try to get in that group off the start. I was 5-6 rows back in the start corral and knew that I would have to take it out VERY hard to try to get in the top 30-ish before the rail trail where it becomes very difficult to change position.
Fail
I had scoped out my lines before the start and went far-right to try to get on the inside for the first two corners. Despite an all-out sprint up the right shoulder I was no better than 50-60th place before the bottleneck of the rail trail. I didn't have my power meter on my bike for this race, but for reference my sprint is 1420-1460W and I likely wasn't far off that right from the gun.
Onto the rail trail I spent the next 5-6k just trying to recover from that effort as things settled down a bit. With the elite group so tightly bunched there is virtually no room to move up - it would take an extended sprint through the grass up the outside, which frankly isn't worth the effort or risk. So I sat in and prepared for another big effort up Sharp's Lane, which is about a 2.5-3 minute stair-step gravel climb up to the first road section.
I'm back there somewhere! (Canadian Cyclist)
I hit the turn well and got about half way up the loose gravel before getting stuck behind a few riders unclipping, so I unclipped and ran hard up to where I could start pedaling again. I tried to hang onto a few riders that I recognized who finished in the top 40 last year but as we got up towards the road I simply couldn't hold on and catch the group, and off they went. I hit my max heart rate for the whole race at this point, and actually the third highest I have ever recorded on the bike (behind two 20 minute time trials). But it still wasn't enough to get in the group.
So I was once again in an all too familiar spot of P2A...20 minutes into the race, just missed the train and dangerously close to being completely blown up already. But I knew there was still a long way to go to get back into a rhythm and start bringing people back. There was a small group hanging onto my wheel and I got a few riders organized to work together on the first long gravel road section.
I led the way through the first off-road section which includes a jump over a ditch then some muddy singletrack. It was awesome to have daylight ahead of me and dismount at 30km/h, hop the ditch and hit the trail at full speed as this is typically a brutal bottleneck getting stuck behind cyclists who don't know how to run :)
When we hit the orchard farm I first noticed that my tire choice and pressure were good as I effortlessly gapped my whole group on the loose gravel corners and was starting to make up ground on the big group ahead. I did my best to rail the corners and as I was exiting the orchard farm I had gotten painfully close to bridging the gap, probably within 5 seconds. But as I got back onto the road I just couldn't get there on my own so I eased back into a tempo effort and let the group behind catch up to me again, which was now down to only 4-5 riders. I knew I wanted some company for the long gravel stretch heading north into the wind.
Once again on the next farm laneway I gapped my group on the first corner. I wasn't trying to intentionally lose any good allies just yet, but I also wasn't going to wait for anyone who couldn't hold my wheel. I had dropped my group but was losing time to the group ahead, so I had to just settle into my own tempo for a while. I put my head down and rode completely solo for about the next 10k.
From a placing standpoint I wasn't sure if it was a good or bad thing that I was on my own for so long. Actually I've never been on my own like that in my previous 3 years of this race...usually I'm driving a 20+ person pack. But it was really nice to get into my own rhythm and hit the trail sections at full speed rather than the constant bottlenecks and spikes when riding in a group. It was probably the most fun I've had in four years of this race feeling like I was on my own against the clock on this epic course.
Finally around 40k in I managed to catch a group of 3 riders who seemed to be working pretty well together. I thought I might blow by them and keep rolling solo but it seemed that having me join them motivated the group to pick up the pace. So we started working well together rolling through some individual riders including one that latched on and worked really hard with us. 45-60k was pretty windy with a new section of the course that went over the 403 then back under, and as we got back on the Hamilton-Brantford rail trail around 60k I was starting to feel the fatigue build. I had to skip a few pulls to make sure I wasn't completely trashed for the final climbs (as I was last year), but still pulled my weight the best I could.
Once we were off the rail trail our group split up as we navigated the tough gravel climbs and mud chutes. I certainly appreciated having the slightly wider gearing and hydraulic brakes compared to my old cross bike and got through both mud chutes cleanly (figuratively speaking, definitely not literally).
I caught one more rider with about a mile left, and just before the start of the final climb to the finish I almost got taken out by a bunch of kids crossing the trail. But fortunately I managed not to run anyone over and gritted my teeth to fight up the hill.
Hoping my bike computer is telling me it's over soon
(Photography by Chyla)
Ultimately I finished 73rd overall in a time of 2:27 - the course was about 5k longer than my best time here (2:13 in 2016) and almost 10k longer than last year when I rode 2:26. Definitely a better ride and faster day than last year as I just about equalled my best ever placing, but I still fell slightly short of my race goal. Once again it was painful, it was muddy, it was tons of fun, but mostly painful.
I am realizing that as my training becomes more and more focused on Ironman and 70.3 riding I sometimes struggle with the high end "pop" that I had when I raced short course and road races. I thought I would be able to get into that main group up the first climb but frankly I just didn't have the fitness for a 500 watt 2-3 minute effort, shortly after a full on sprint at the start. I could tell that my overall fitness is good as I was able to recover and find a good rhythm to roll through a big chunk of the race on my own. I think I'm just starting to become more of a diesel engine time trial guy than a snappy sprinter. I guess that's a good thing given what I'm actually focusing on :)
So let's be real. No matter what I say its virtually inevitable that I'll be back on the start line again next year. I am still very determined to finish higher in this race as I know I have a top-50 in me, maybe a top 30. But depending on how it fits in the grand scheme of my year I will either have to adjust my race schedule, or my spring training, if I want to better my result at this race. But for this year it once again has served as a super fun and hard first hit out of the season. It's gotten me through winter and spring weather in good form and I can't wait to tackle plenty more big goals in 2018!