If I had to summarize my 2016 season with one word...
I guess I mean that more in the literal sense of the word than how Bubbles would use it.
After Louisville last year it was hard for me to think about anything but another Ironman. Partly to get the monkey off my back with the disappointing result, partly because I loved the training so much. But it's also a crazy commitment of time and money, and it meant missing out on fast racing at my favourite local events.
I decided that this year would be a year of going back to short course racing - I know I have not come close to my potential in shorter distances but historically I've struggled to stay healthy and consistent with higher intensity training. So 2016 was all about doing everything I could to stay healthy and knock down some PBs. Fortunately for us Ontario athletes we have the opportunity to race against many top young elite athletes for some prize money in the Multisport Canada series. My big goal for 2016 was to race hard all year and finish in the top 3 of the series.
Despite that goal, to be honest there were times that I caught myself thinking of this season as a means to an end - ie. get a little bit faster then go race another Ironman. Sure, I was having fun racing local and going after some new fitness benchmarks. But when a knee injury ended my racing season before it even really began, it seemed like my body was just trying to further solidify that thought.
But that mindset would sell short the work I put into training in the past 12 months, and some really fun and strong racing. Despite the shortened race season I accomplished nearly all of my goals I set out at the beginning of the year. The most important of which was learning to enjoy the process of banking the hard yards in short course training again. From the New Year's Day double swim at the end of a 35k swim week to the Tuesday night BPT track sessions, I managed to get myself into some pretty good form...for an old and slow Tri Dad (according to my Hurdle Project bros).
With the help of LPC coaches Mark and Alex I overhauled my swim stroke over the winter and significantly improved my open water efficiency. I reached a new level of cycling fitness with speed and power personal bests in TT's and CP tests. And I managed to knock off about 2.5 minutes from my previous 10k PB along with a new 5k best time as well. I wish I was able to translate that fitness into some big tri results, but I was forced to deal with some strength issues that were a long time coming.
So before looking ahead to some big plans in 2017, here's a quick recap of what I did accomplish in a short 2016 season.
Clermont Draft-Legal Challenge:
Always a fun way to kick off camp LPC in sunny Florida. I couldn't quite bridge to the lead pack as I did last year, but a strong run in a stronger field that last year kept me in the top-10 overall.
Komoka Optimist Easter Dash 5k:
Support your local races! And run PB's while you're at it! 16:35 was a great benchmark to start the local season.
Steaming Nostril 70k:
This was supposed to be a low key tune-up for Paris to Ancaster, and it ended up being one of the most epic events I've ever done. -15 degrees, fresh snow and 30+km winds ensured some character building regardless of the result, and I finished over 15 minutes off the front of my wave.
Paris to Ancaster 70k:
Maybe my best executed cycling race ever, I managed my efforts and finished nearly 30 minutes faster than last year, comfortably qualifying for next year's elite wave.
Mississauga 10k:
This was actually a race that kept me motivated to nail my track sessions all winter. I really wanted to get under 35:00, but after P2A I was wondering what the hell I was thinking planning these races back to back. Fortunately I recovered well and ran 34:18, which got me super motivated to get in the 33's next time!
MSC Woodstock: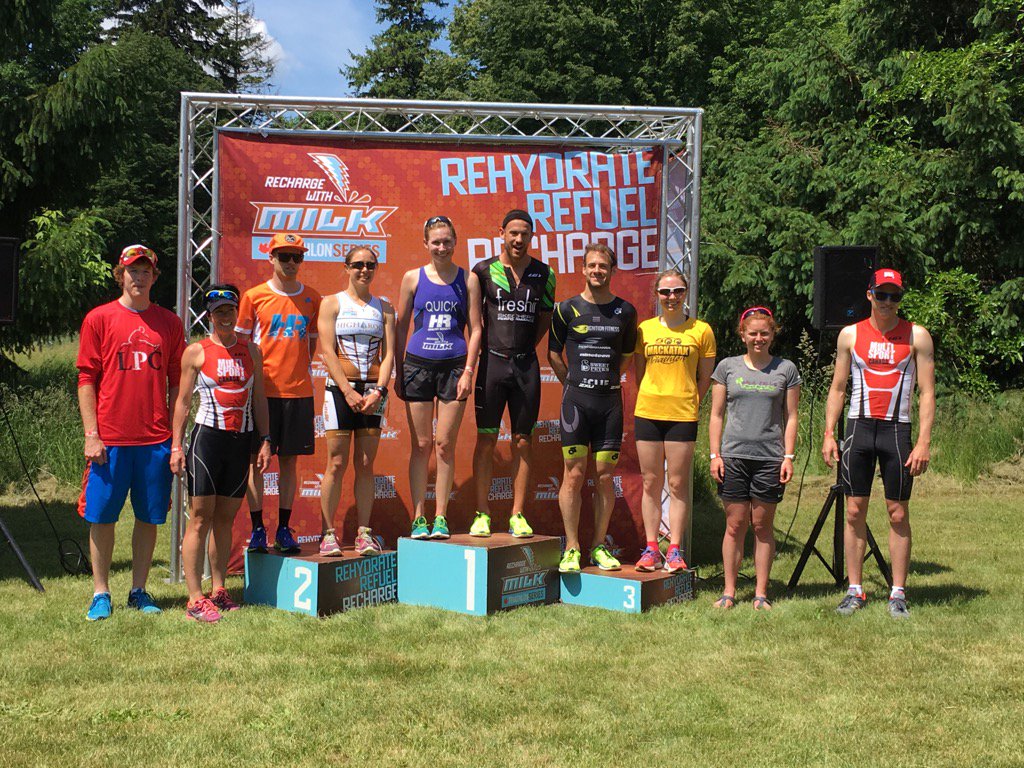 The annual Ontario rust buster. My legs decided to stay in bed that morning but I was still able to share the overall podium with some rock stars.
MSC Welland Long Course:
Welland Long Course was an awesome new course at one of my favourite venues. Decent swim, good bike and damage control run meant I accomplished my goal for the day of top-5 overall.
For about a month after Welland I did my best to try to hold some fitness together despite being unable to run more than 15 minutes pain-free. But after about six weeks of minimal training in the heart of tri season, I decided that I needed to change my goal to just getting healthy. Well, that and being the best damn fur dad a fur child cold ever ask for.
Even though my racing season ended after Welland I still had fun volunteering at MSC races throughout the season. Like I said, support your local races!
The knee pain I was experiencing was a result of numerous minor issues I had been putting off dealing with for far too long. And as I've peeled back the layers of strength imbalances, weird tightness issues and hip joints that don't like to move, I'm also seeing the opportunity of becoming more efficient and durable than ever before. I'm optimistic that I'll be back to running normally soon but I'm in no rush. The number one priority is to get to the root cause of it all and get healthy.
And it's a good time to do that, since I'm doing this next summer :)